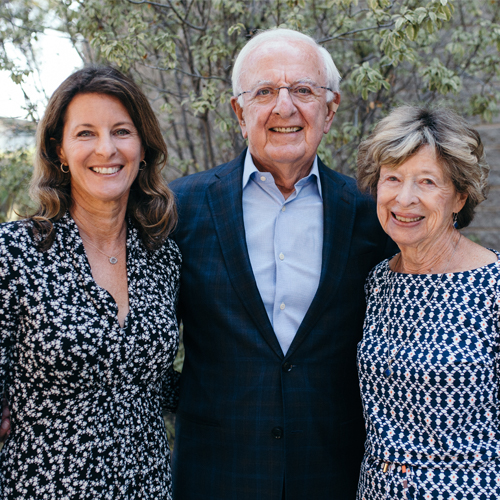 Mosher Foundation
THE MOSHER FOUNDATION funds programs that make a meaningful and measurable difference in our community. They forge partnerships with local nonprofits whose work is focused exclusively within the areas of education, healthcare, or performing arts. Their goal is to drive significant positive outcomes in these important sectors and select programs that stand out for innovation and creativity.
SDRI is incredibly grateful to the Mosher Foundation for its decades of support. This support has allowed SDRI to improve the lives of those in our community through diabetes research, education, and clinical care.
"Over the years, we have worked very hard to continually evolve our work to ensure that we stay aligned with the changing needs of our community. Today, we are pleased to partner with Sansum Diabetes Research Institute in Santa Barbara. We are extremely proud of their impact in diabetes research, and we look forward with great enthusiasm to what lies ahead."
— Yvette Giller, Mosher Foundation, Executive Vice President
Flint Ogle
MAY 18, 2020, marked 6 years, or about 2,200 days, since Flint Ogle's son, Beckett, was diagnosed with type 1 diabetes at four years old. Flint Ogle wanted to honor his son for handling his diabetes with perseverance and good humor. Flint committed to riding his bike for 2,200 miles!
When JDRF's (an organization that funds type 1 diabetes research) annual Ride to Cure Diabetes was canceled due to the pandemic, Ogle thought of another way to fundraise. His goal was to ride 22 separate, 100-mile bike rides to raise funds for SDRI and JDRF. His aim was to raise $50,000 for diabetes research, and he surpassed his goal and raised $55,810.
"My inspiration is to celebrate the strength and resilience of my son and other children with type 1 diabetes and help find a cure, so they can be free of the disease," Ogle said.
Ogle completed his 2,200 miles in December of 2020. The first half was done on the backroads of Colorado and the remainder around Santa Barbara. SDRI is inspired by Flint's dedication to improving the lives of families living with diabetes.
"I would love to broaden the donor base and inform more locals about the amazing advancements that SDRI facilitates, with worldwide implications, right here in Santa Barbara," said Ogle. "SDRI is a unique organization, and learning about the important role it plays in constantly improving diabetes care has been a wonderful fringe benefit of collaborating on this year's fundraising efforts."
For more information and to view videos from Ogle's 2,200-mile journey, please visit sansum.org/follow-flint.
"My inspiration is to celebrate the strength and resilience of my son and other children withtype 1 diabetes and help find a cure, so theycan be free of the disease."
— Flint Ogle