About Farming for Life
Farming For Life provides locally sourced fresh vegetables at no cost to underserved people with, or at risk, of type 2 diabetes. The program explores the "food as medicine" concept in type 2 diabetes and food insecurity. Farming for Life aims to reduce the burden of diabetes by providing medical prescriptions of fresh vegetables to reduce the progression of type 2 diabetes. SDRI, in collaboration with Texas A&M and Rice University, has published articles showing this approach is associated with clinically relevant improvements in cardiometabolic risk factors, including lowering of blood pressure, improved glycemic control, as well as important psychological variables such as better sleep, improved mood, and less pain in predominately Latino adults. Digital health components, including wearable devices to continuously monitor glucose, physical activity, and sleep, will help determine the influence of healthy eating on metabolic function and health. The use of CGM and other digital health components in traditionally underserved populations has shown novel insights into blood glucose patterns that have the potential for new interventions to prevent the development of type 2 diabetes.
In 2020, 56 families were provided fresh produce on a weekly basis through the Farming For Life program throughout the COVID-19 pandemic. Many high-risk participants noted that they felt extremely worried about grocery shopping locally because of COVID-19, and only had access to fresh produce through SDRI. They enjoyed the flexibility of our contactless pick-up of fresh produce at SDRI, and were profoundly impacted by our Farming For Life program.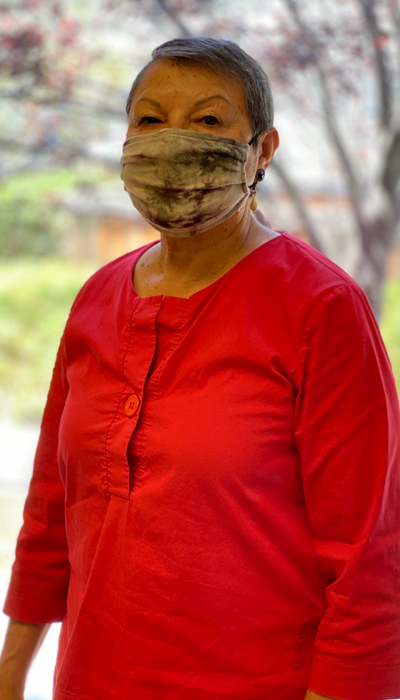 Alice's Story
SDRI's Farming For Life program has impacted hundreds of individuals in Santa Barbara County. While the program aims to help individuals to reduce the burden of diabetes, one participant, Alice Payne, said, "The program had an important impact on me and my family. Now we talk more about how to make the right healthy eating choices. I finally had answers to all my questions about how to eat healthier for me and my family, because I could ask questions if I didn't understand what we were learning at SDRI."
Alice joined the Farming For Life program in 2020, and not only did Alice learn what foods she should be eating to control diabetes and have a healthier lifestyle, she also learned how to prepare the healthier food she was given. Since then, she has felt empowered to cook more for herself and for her family, and has seen significant health changes because she has implemented the education she's received from SDRI. Since joining the program, Alice has experienced weight loss, lowered A1c levels (average blood glucose level over the past 3 months), and lower blood pressure.