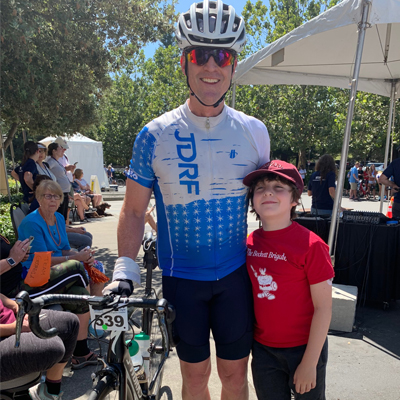 Going the Extra Mile for Diabetes Research
May 18, 2020 marks just over six years, or roughly 2200 days, since Flint Ogle's 10-year-old son, Beckett, was diagnosed with type 1 diabetes.
In celebration of his son's 2200 days of strength, resiliency and good humor in the face of T1D's daily burden, Flint will complete 22 separate 100-mile rides before year-end to raise essential funds for two remarkable T1D organizations: The Juvenile Diabetes Research Foundation and Sansum Diabetes Research Institute.
This year, for every dollar raised in support of JDRF, a generous donor will make a matching contribution to SDRI, up to $50,000. This gives donors an opportunity to double their impact by simultaneously supporting two organizations so critical to the ongoing effort to improve T1D treatment and, ultimately, cure the disease.
Flint will ride his "22 100s" to advance the ongoing, critical research of SDRI and JDRF, which transforms the lives of children and others living with T1D. Please consider supporting Flint today!
Follow Flint on His Journey to 22 100 Mile Rides
Follow Flint: In the News